Meet the Bright Penny Team
Delicious food and excellent beer is what we do!
Best place to work, hands down!
Tory Williams, General Manager
Tory is an ambitious and driven chef, general manager and lover of beautifully crafted food who relocated from Rhode Island to North Carolina early 2019, with his wife. After joining the team of Bright Penny Brewing a few months before they opened, Tory has proven to be a significant asset, putting his skills to work creating their beloved menu.  
Tory's vision extends beyond just great beer. As the Executive Chef and General Manager, he wanted to create a food concept that perfectly complements their brews. With his passion for beautifully crafted dishes, he has exceeded expectations and continues to push the boundaries of innovation. 
Not content with stopping there, Tory has also been instrumental in the expansion of Bright Penny. Working tirelessly alongside his team, he is excited about the future growth of the brewery and ensuring that more people get to experience what they have to offer.
 
When he's not at work, you can find Tory cherishing moments with his family or attempting to find his golf ball in the woods after a particularly wild slice. With a love for his craft, Tory embodies the spirit of Bright Penny Brewing. Come and experience it for yourself!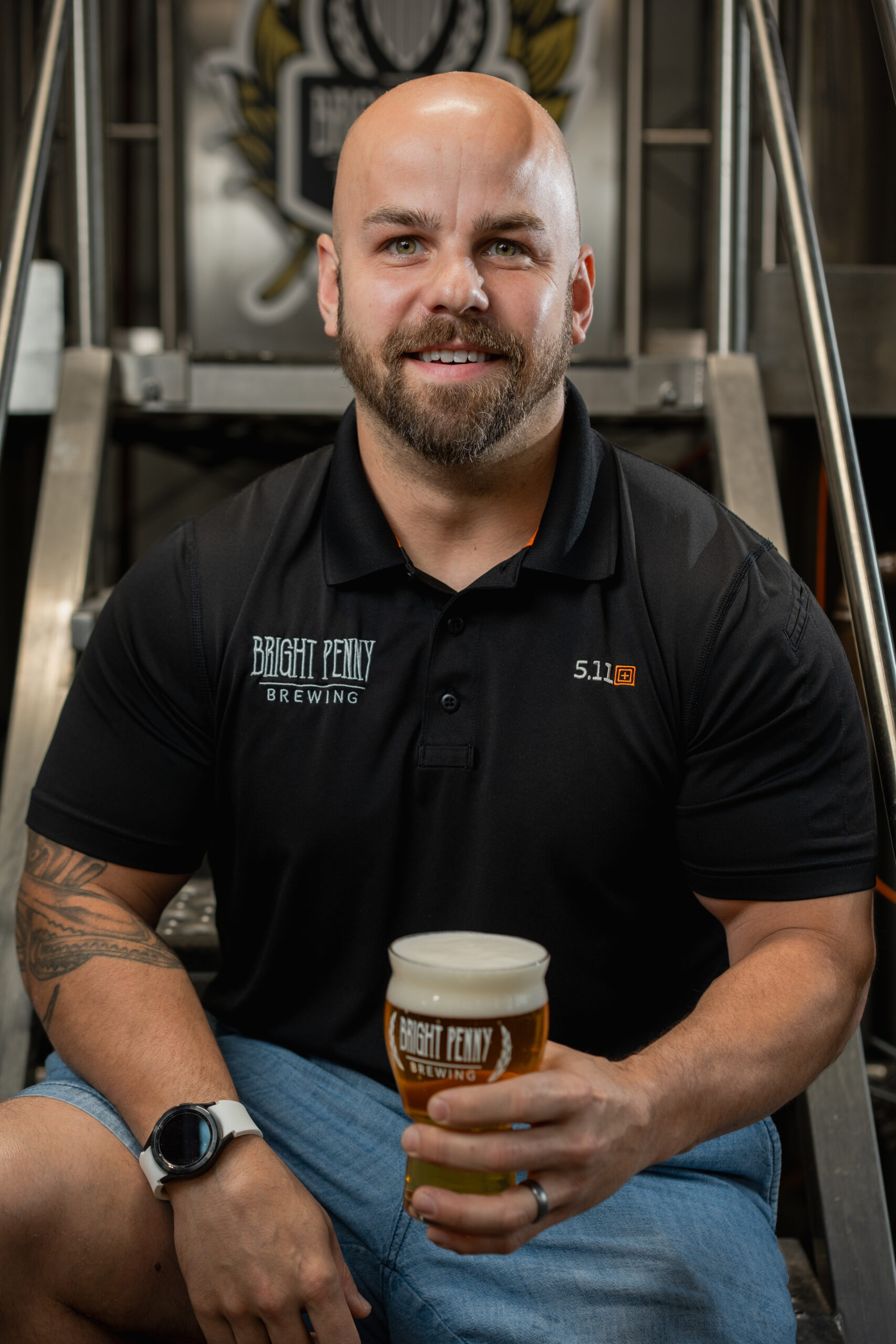 Originally from Colorado, Lance relocated to NC in 2020 with his wife Natalie and their 3 dogs. Lance has been in the Brewery and F&B industry for 20 years, and has been brewing for the last 12, both as a Homebrewer and Professional Brewer. He takes inspiration from Food, Cocktails and Wine, is always researching and implementing new techniques and styles, while staying true to classic methods and approaches as well.  Lance's favorite beers to brew are Stouts, Barleywines and anything else he can age in Spirit and Wine Barrels. His all-time favorite beer is "Slow Pour Pils" by Bierstadt Lagerhaus out of Denver, CO. During his time off you can find him playing a round of golf with a couple of Bright Penny's "Not Your Mama's Sweet Tea" Sour Ales.
Steveo Valentino, Kitchen Manager
Head Chef & Kitchen Manager Steven Valentino is an enthusiastic culinary
artist with a talent for creating culinary experiences that blend innovation and tradition. Self-taught with over a decade of experience working as one of the first entrepreneur food trucks "Valentino's" in Wake County, Chef Valentino has elevated the Bright Penny dining scene with his unique pizza creations and flavorful small dishes.
Chef Valentino is dedicated to using NC sourced ingredients and promoting the joys of food and cooking practices. In addition to his culinary pursuits, he enjoys the outdoors, philosophical discussions, comedy, and collecting vinyl records.
"Life is just like pizza, there are many choices. Eat, explore and don't be too serious for it's ok to be cheesy!"
We speak for you when we say you are lucky to have him in the kitchen putting his creative mind to work.
Meet Daniel
Jolly, one of our Brewer, that has been at Bright Penny since May 2021. This is his first job in the brewing industry although he has been passionate about craft beer for most of his adult life and had some experience homebrewing. Daniel loves working in this industry because it is a wonderful combination of good hard physical work, creativity, problem solving, and applied science as we guide the process of fermentation.
"It is so easy to gain inspiration in this field as there are many breweries making great beer and a wealth of information being shared among those in the brewing community that each individual brewer can find the styles or concepts that spark interest and follow those threads, building on what has come before but also experimenting with the new as we craft our own identity as brewers. My favorite style to brew has to be an Imperial stout. It smells incredible on brew day and offers so much potential for flavor combinations. Our Autumn Hayride, a Mexican Hot Chocolate Stout brewed with cinnamon, chocolate, and dried chili peppers is my favorite stout that we make."
James Guzman, Assistant Brewer
Meet James, our latest addition to the Bright Penny brew crew! James started his professional career in the corporate world, working in loss prevention and logistics where he flourished and quickly propelled himself into a management position. In 2019, James decided it was time to follow his passion, so he left his corporate job to join Bay City Brewing in San Diego. Here, he had the privilege of working directly under the guidance of the head brewer, soaking in the knowledge and experience of the craft. His dedication and enthusiasm for brewing quickly became evident as he was promoted from Cellarman to Assistant Brewer. In 2023, James, his wife Courtney and two adorable fur babies, made a life changing cross-country move to North Carolina.